Santa Tresa Rina Ianca is made from a blend of the local indigenous white grape Grillo and the French grape variety, Viognier. We take enormous care in deciding when to pick the grapes in order to ensure the perfect balance of fruit and acidity. All grapes are picked in the cool early hours of the morning and are transported as quickly as possible to the winery in order to preserve the freshness.
Grapes for Rina Ianca are grown on the 50 hectare estate of Feudo di Santa Tresa. The estate, one of Sicily's finest and oldest, dates back to 1697 and is situated in the South East of the island in Vittoria. Santa Tresa cultivates organic grapes, with the emphasis on natural production methods and as little human intervention as possible.
The two grape varieties are vinified separately. Fifty per cent of the Grillo is aged in oak barrqiques for 3-4 months before being blended together with the rest of the Grillo and the Viognier.
Rina Ianca has a bouquet of tropical fruit and vanilla aromas, with a perfect balance of fruit flavours and citrus acidity on the palate.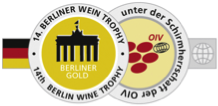 Berliner Wein Trophy 2016 – Gold Medal

Mundus Vini 2015 – Gold Medal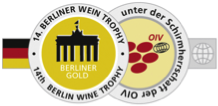 Berliner Wein Trophy 2015 – Gold Medal
A lively, fresh white, with plenty of body, which will go with all sorts of fish and seafood dishes as well as making the perfect aperitif.
Sicilian wines always complement the local food –and seafood is a very important part of Sicilian life.
SPAGHETTI WITH CLAMS
Ingredients for 4 servings:
1 kg clams
1 bunch of parsley
2 garlic cloves
Salt and pepper
Extra virgin olive oil
400 g spaghetti
First clean the clams and remove any trace of sand from them: the best way to do that is to place the clams into a bowl of salty water and leave them there as long as you can (e.g. overnight).
Once you have properly cleaned the clams, drain the water and put them into a hot pan with 2 spoons of olive oil and a clove of garlic. Cover the pan and cook the clams until they are all completely open. Remove some shells (half of them) and then strain the clams' juice in order to remove any trace of sand.
Heat some oil into a medium size pan, stir in the other clove of garlic until it has turned golden. Stir in the juice from the clams, cook it for about 10 minutes and, at the end, add the clams with the chopped parsley and some pepper.
Cook the spaghetti in a pan full of boiling water until it is 'al dente', drain it, put it into the pan with the clams and stir all together for about one minute.
…Buon appetito!