A careful blend of Sicily's native Nero d'Avola and Cabernet Sauvignon.
Grapes for Nivuro are grown on the 50 hectare estate of Feudo di Santa Tresa. The estate, one of Sicily's finest and oldest, dates back to 1697 and is situated in the South East of the island in Vittoria. Santa Tresa cultivates organic grapes, with the emphasis on natural production methods and as little human intervention as possible.
Nivuro was the first wine that we made on the estate back in 2003. Over the years, we have perfected the blend, using the very ripest grapes. Nivuro is aged in small oak barriques for around a year before bottling.
Deep, opaque purple/red with an incredibly intense nose featuring black pepper and spices. Powerful on the palate with huge bursts of warm dark berry fruit, Nìvuro has excellent balance, with a surprisingly soft, long finish.

Mundus Vini 2012 – Silver Medal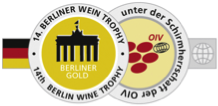 Berliner Wine Trophy 2012 – Gold Medal

International Wine & Spirit Competition 2012 – Bronze Medal
The ideal accompaniment to red meats and meaty pasta dishes.
Fillet Steak with Green Peppercorn Sauce
Sicilian wines always complement the local food. Below is a very quick recipe, which is used on special occasions!
Ingredients for 4 servings:
a small glass of Brandy
1 knob of butter
4 fillet steaks
150 ml of double cream
2 table spoons of green pepeprcorns
1 table spoon of mustard
salt
Crush the peppercorns and coat the meat with the pepper.
Heat the butter in a pan and sear the steaks on both sides for about 2 minutes, then remove the meat from the pan and put it aside.
Pour the brandy into the pan, add the mustard. After a couple of minutes add the cream to the pan along with the remaining peppercorns, simmer all together for five minutes. When the sauce is thick, put the steaks into the pan and heat them for a few seconds.
Spoon the sauce over the steaks on the plate.