Made from the local Sicilian Frappato grape variety, which makes relatively light, elegant reds.
Grapes for Frappato are grown on the 50 hectare estate of Feudo di Santa Tresa. The estate, one of Sicily's finest and oldest, dates back to 1697 and is situated in the South East of the island in Vittoria. Santa Tresa cultivates organic grapes, with the emphasis on natural production methods and as little human intervention as possible.
The Frappato style is really fresh – it is not oaked at all, it's a wine meant to be drunk young, but this doesn't mean it's simple – not at all! Frappato has a whole array of flavours! It is ideally drunk slightly chilled, making it the perfect red aperitif, or excellent accompaniment to robust, meaty or tomato-based fish dishes.
Frappato Sicilia IGT
The bouquet is fresh, with lots of red berries and delicate sweet spices. The palate is smooth, yet with a very lively acidity, but well balanced, with a spicy, long lasting finish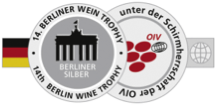 Berliner Wein Trophy 2015 – Silver Medal

IWSC 2015 – Bronze Medal

International Bioweinpreis 2015 – Silver Medal
Frappato is perfect chilled with light white meats such as bbq chicken, or hearty fish dishes such as the pistachio tuna below.
Sicilian wines always complement the local food and there are a great many ways of preparing tuna. Below is one of our favourites:
PISTACHIO CRUSTED TUNA
200g unsalted, shelled pistachio nuts
zest from 1 lemon
500g tuna fillet
a splash of olive oil
salt and black pepper
1. Pre-heat the oven to 200°c.
2. Put the pistachio nuts and lemon zest into a food processor and grind them up until you are left with a beautiful, textured, green grain – the same size as a grain of cous cous. Pour the pistachio grain onto a baking dish and set aside.
3. Transfer your tuna fillet onto a clean chopping board. Using a very sharp knife, cut the tuna into two oblong fillets – 2/2.5cm thick.
4. Coat the tuna slices with the pistachio grain.
5. Heat a big pan. When the temperature is very hot, drop the tuna fillets into the pan and sear each side for 1 minute.
6. Put the tuna into the oven for 3 minutes.
7. Plate and serve this dish with a simple green salad or baked potatoes.