Santa Tresa Cerasuolo is made from a blend of two of Sicily's finest indigenous red grape varieties – Nero d'Avola and Frappato. The two grape varieties ripen at different times and are therefore picked at different times in order that they both achieve the perfect level of ripeness.
Grapes for Cerasuolo are grown on the 50 hectare estate of Feudo di Santa Tresa. The estate, one of Sicily's finest and oldest, dates back to 1697 and is situated in the South East of the island in Vittoria. Santa Tresa cultivates organic grapes, with the emphasis on natural production methods and as little human intervention as possible.
The quality of Cerasuolo di Vittoria was recognised when it was awarded DOCG status and the Santa Tresa estate lies at the heart of the production zone. We strive to make a Cerasuolo which is true to its long history, at the same time applying some modern winemaking techniques.
The bouquet is reminiscent of dark berries. The palate is soft, well-rounded, full of elegance and finesse, with a long finish.

IWSC 2015 – Silver Medal

Mundus Vini 2015 – Gold Medal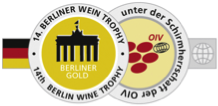 Berliner Wein Trophy 2015 – Gold Medal
Cerasuolo di Vittoria has a soft elegance, which makes it a great accompaniment to vegetable-based dishes, or pasta with a tomato sauce, poultry or meaty fish.
Sicilian wines always complement the local food –and aubergines are grown all over the island and are very much part of Sicilian culture.
PASTA ALLA NORMA (pasta with aubergines)
This is a typical dish from Catania (situated not far from the Santa Tresa estate), which combines all the traditional ingredients of the sunny island of Sicily – basil oil, olive oil, tomatoes and aubergines.
Ingredients for 4 servings:
400g of Rigatoni pasta
2 medium sized aubergines
Extra virgin olive oil
Salt
2 garlic cloves
500g of peeled tomatoes
Fresh basil leaves
200g of ricotta
1 Wash and dry the aubergines, take off the leaves and the stem, cut them into small slices. Layer the slices in a colander, sprinkle each layer with salt and place a weight on the top of them: this procedure will drain the aubergines. Leave for 1 hour.
2 Heat some oil into a medium size pan, stir in the garlic until it has turned golden. Stir in the tomatoes, cook them for about 20 minutes.
3 Remove the aubergines from the colander, rinse them with some cold water and dry with a kitchen paper. Fry them into some olive oil until they turned golden, dry them a little with some kitchen paper and then stir them into the tomato sauce.
4 Cook the pasta in some boiling, salted water until it's still firm to the bite. Drain it and put it in the pot containing the sauce.
5 Plate the pasta and grate some ricotta on the top of each dish.