Sicily's leading red wine grape, Nero d'Avola
Grapes fro Purato Rosé are grown on hillside slopes of the hills in the Trapani area, in Western sicily, near Marsala.
With the Purato wines, we bottle exactly what Mother Nature has given us – there is nothing added and nothing taken away. The wine has a complete purity of fruit, totally unadulterated by any chemicals or man-made pesticides.
Our total commitment to the environment extends beyond the wine itself, here a list of our credentials:
Organic
Vegan Friendly from 2015 vintage
Recycled Paper and Cardboard
Vegetable Ink on the labels
Recycled Glass
Carbon Neutral Certified
A highly characterful, bright rosé, with tons of fresh red berry fruit flavours. Lively and vibrant, it's perfect as an apertif or a great choice with prawns (see recipe below).

IWSC 2015 – Silver Medal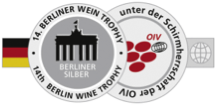 Berliner Wein Trophy 2015 – Silver Medal
A great choice with prawns (see recipe below)!
Classic Prawn Cocktail
Ingredients for 4 servings:
350g cocktail sauce
400g prawns
1 bunch of parsley
1 head of lettuce
INGREDIENTS FOR COCKTAIL SAUCE:
1 drop of Worcestershire sauce
1 spoon of cognac
60ml of double cream
200g of mayonnaise
80g ketchup
Put the mayonnaise in a bowl and mix it with cognac, ketchup and Worchestershire sauce. Whisk the double cream with a mixer untils is semi-whipped, then add it to the other ingredients and mix them with a spoon. Put the bowl in the fridge and leave at least 1 hour.
Remove the prawn shells and then cook them for a couple of minutes in a pan full of boiling water. Remove the prawns and let them cool for a while. Cut some of the lettuce into thin strips.
Put the cooled prawns into the bowl with the sauce and mix them together.
Take four glasses (or cups), place some lettuce in the centre and put the prawn cocktail on the top of them. Decorate with some chopped parsley.