Sicily's leading red wine grape, Nero d'Avola
Grapes for Purato Nero d'Avola are grown on hillside slopes of the hills in the Trapani area, in Western Sicily, near Marsala.
With the Purato wines, we bottle exactly what Mother Nature has given us – there is nothing added and nothing taken away. The wine has a complete purity of fruit, totally unadulterated by any chemicals or man-made pesticides.
Our total commitment to the environment extends beyond the wine itself, here a list of our credentials:
Organic
Vegan Friendly from 2015 vintage
Recycled Paper and Cardboard
Vegetable Ink on the labels
Recycled Glass
Carbon Neutral Certified
Purato Nero d'Avola has a wonderful structure, yet it is very soft and easy to drink. A really characterful and flavoursome wine, Purato Nero d'Avola is packed with red berry fruit flavours.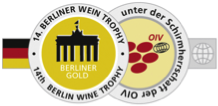 Berliner Wein Trophy 2016 – Gold Medal

International Bioweinpreis 2015 – Silver Medal

IWSC 2015 – Silver Medal
Purato Nero d'Avola goes brilliantly with tomato based sauces such as Spaghetti Bolognese, with Pizza, or grilled red meats.
Involtini di Melanzane (aubergines, stuffed and rolled)
Sicilian wines always complement the local food. In Sicily, they have some of the finest vegetables you will find and aubergines feature strongly in the local cuisine.
Involtini di Melanzane is a thoroughly authentic Sicilian dish, using ingredients which are not difficult to find in most corners of the world.
Ingredients for 4 servings:
3 large aubergines
100g ham
50g breadcrumbs
50g grated mature cheese
2 /3 cloves of garlic
a handful of fresh basil
2 tins of tomatoes
half a small onion
olive oil
salt and pepper
Cut the aubergines lengthwise into 1cm-thick slices and brush with salt to extract any liquid. Leave for about 30/40 minutes and then rinse and dry. Then, heat some extra virgin olive oil in a large frying pan with a little salt and fry the aubergine slices on both sides until golden brown. Place on kitchen paper to remove excess oil and leave to cool.
While the aubergine slices are cooling, it is time to prepare the filling. Finely chop the ham and garlic, add the breadcrumbs and grate the cheese into the mix. Add most of your basil and a drop of olive oil to make the mixture ever so slightly moist. Season with salt and pepper and mix well. Then place a little of the filling on each slice of aubergine and roll up, fastening each involtino with a toothpick.
To prepare the tomato sauce, finely chop your onion and fry it gently in a little olive oil. Add the tinned tomatoes, and cook down with a little salt and pepper. Add a little basil towards the end.
When the sauce is ready (about 20 minutes should do), place the aubergine rolls in an greased oven-proof dish and cover with most of the tomato sauce. Place in a hot oven for around 15-20 minutes.
Add a little more of the tomato sauce and serve with crusty white bread and a bottle of Purato Nero d'Avola.