The greatest Sicilian Pinot Grigio!
Around the Trapani area of western Sicily we have found some great sites for Pinot Grigio – yes, Pinot Grigio!
Harvest is all by hand and we only pick the very best grapes.
Rather than offering any winemaker's tasting notes, we are interested in your opinion – can Sicily make great Pinot Grigio? We would love to hear your views, please contact us via the website www.twpwines.com

Mundus Vini 2016 – Gold Medal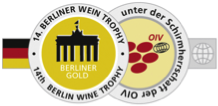 Berliner Wein Trophy 2015 – Gold Medal
Miopasso Pinot Grigio makes a perfect aperitif and a great wine for special occasions.
Peppered Mussels
Ingredients for 4 servings:
1,5 kg mussels
2 cloves of garlic
chopped parsley
1 glass of white wine
Extra virgin olive oil
Black pepper
1. First clean the mussels: scrub them well and put them into a bowl of salty water for half hour.
2. Once you have properly cleaned the mussels, drain the water and put them into a pan with 2 spoons of olive oil and 2 cloves of chopped garlic.
3. Add a glass of white wine and cook the mussels until they are all completely open.
4. Add the chopped parsley and a generous amount of black pepper.
5. Your mussels are ready to be served…Buon appetito!