Fiano, one of Sicily's fine white grape varieties
Grapes for Miopasso Fiano are grown in Belice Agrigento, around half way across the island of Sicily, on the southern coast.
The abundance of sunshine in Sicily results in very ripe grapes, which give delicious, luscious whites, with a lot of body and character. In order to extract the maximum aroma and flavour, the wine is left on the skins at a low temperature, then rests on its fine lees before being bottled some months later.
The tropical fruit flavours combine with a lovely citrus acidity, which makes the Miopasso Fiano really fresh and zesty. There is a whole spectrum of flavours here – from floral notes to hints of honey.

IWC 2016 – Bronze Medal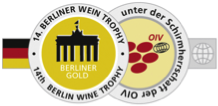 Berliner Wein Trophy – Gold Medal

IWSC 2015 – Silver Medal
Fresh and floral with touches of honey, Miopasso Fiano is perfect chilled as an aperitif and wonderful with a plate of seafood.
Seafood Marinara Pasta
Ingredients for 4 servings:
360g Linguine Pasta
Extra virgin olive oil
2 cloves of garlic, finely chopped
1 red onion, chopped
2 tomatoes
1 can of crushed tomatoes
2 spoons of parsley
1 ground spoon of thyme
900g mussels, cleaned and debearded
450g uncooked medium shrimps, peeled and deveined
1 glass of dry white wine
lemon juice (1/2 lemon)
Pasta: Fill a large pot with lightly salted water, once the water is boiling stir in the Linguine. Cook the pasta for about 11 minutes, till is still firm to the bite. Drain it in a colander.
Sauce: Heat 1 tablespoon of oil in a skillet over medium heat. Stir in 1 clove of garlic and onion, cook and stir until the onion has softened and turned golden. Stir in tomatoes and cook them until have softened.
Heat another tablespoon of oil in a large skillet over medium-low heat and stir in a clove of garlic. Stir in mussels and shrimps, then pour in the wine and the lemon juice. Cover and increase heat to high. Cook until shrimp have turned pink and mussels have opend, discarding any that have not opened. Add the tomato sauce, simmer all together for about 10 minutes and add parsley and thyme at the end.